WORK
CURATORIAL
NEWS
CONTACT
BIO
TOP

THE REVOLUTION'S ARCHIVE THROUGH FAMILY PHOTOGRAPHS AND ARTISTIC DISCOURSES
Lecture by Ana de Almeida


Reichsratsstraße 17, 1010 Vienna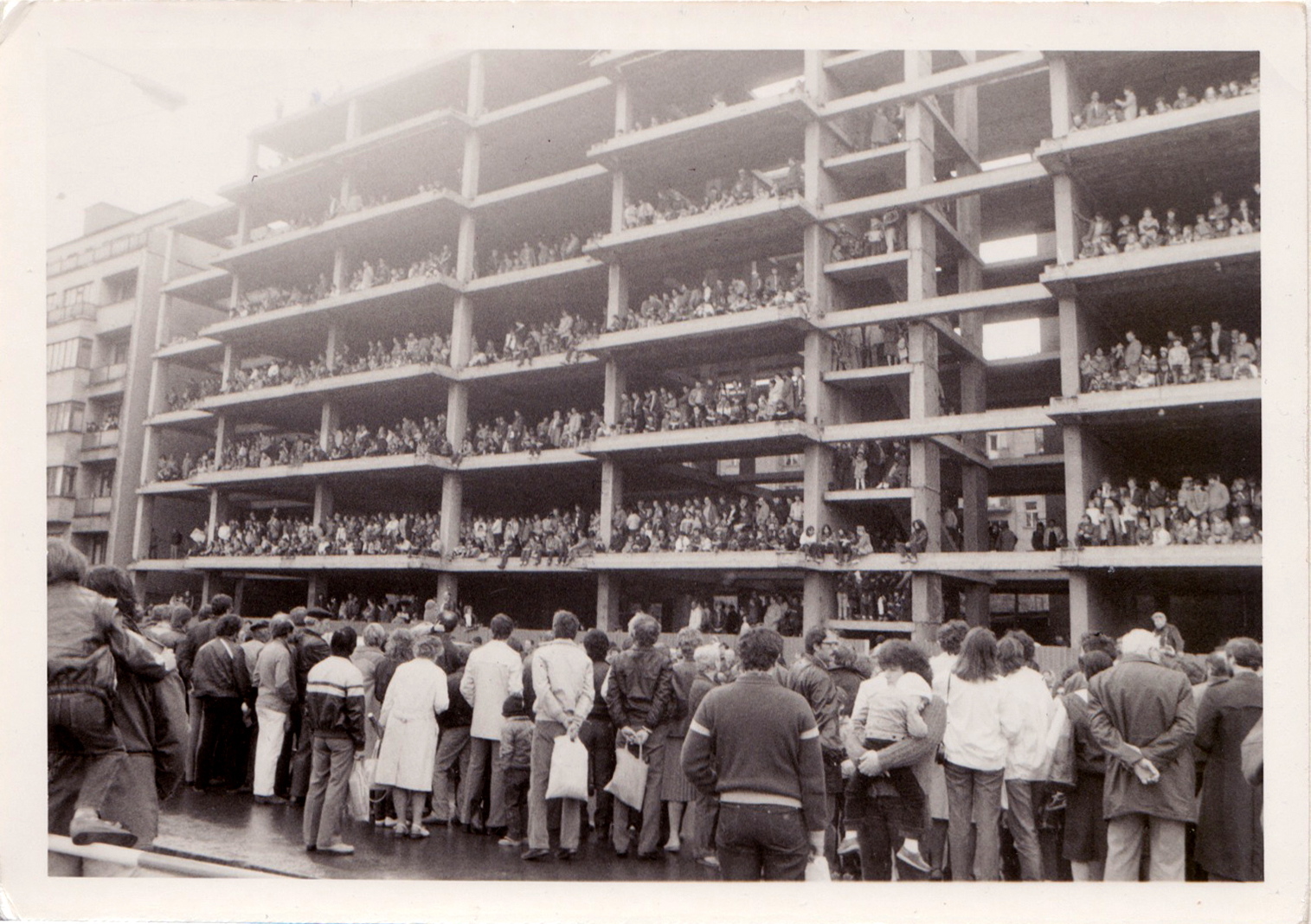 LINK
LINK
Photo: José Alberto, Prague 1983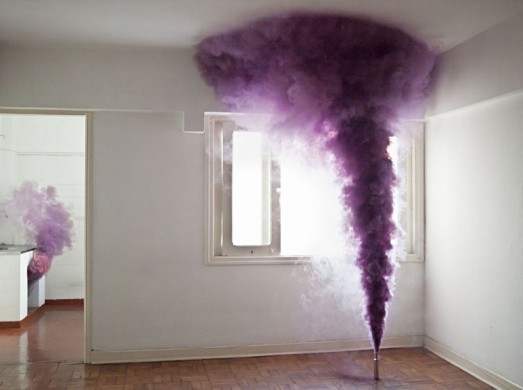 CYBERNETICS OF THE POOR. INTERNATIONAL SEMINAR
Tutorials, scores and exercises
Camila Sposati. Violeta Barra Funda II, 2011
Andre zigarrogileak plaza, 1
20012. Donostia / San Sebastián

LINK
LINK
SHARING AND RESPONDING

Workshop

Exhibition opening
CARNATIONS AND VELVET.
ART AND REVOLUTION IN PORTUGAL AND CZECHOSLOVAKIA

CARNATIONS AND VELVET.
ART AND REVOLUTION IN PORTUGAL AND CZECHOSLOVAKIA

Guided tour with Ana de Almeida, Jiří Kovanda
and curator Sandra Baborovska
WITTGENSTEIN HAUS
ART, ARCHITECTURE AND PHILOSOPHY
Exhibition opening
TRANSLOCAL SCORES
Exhibition opening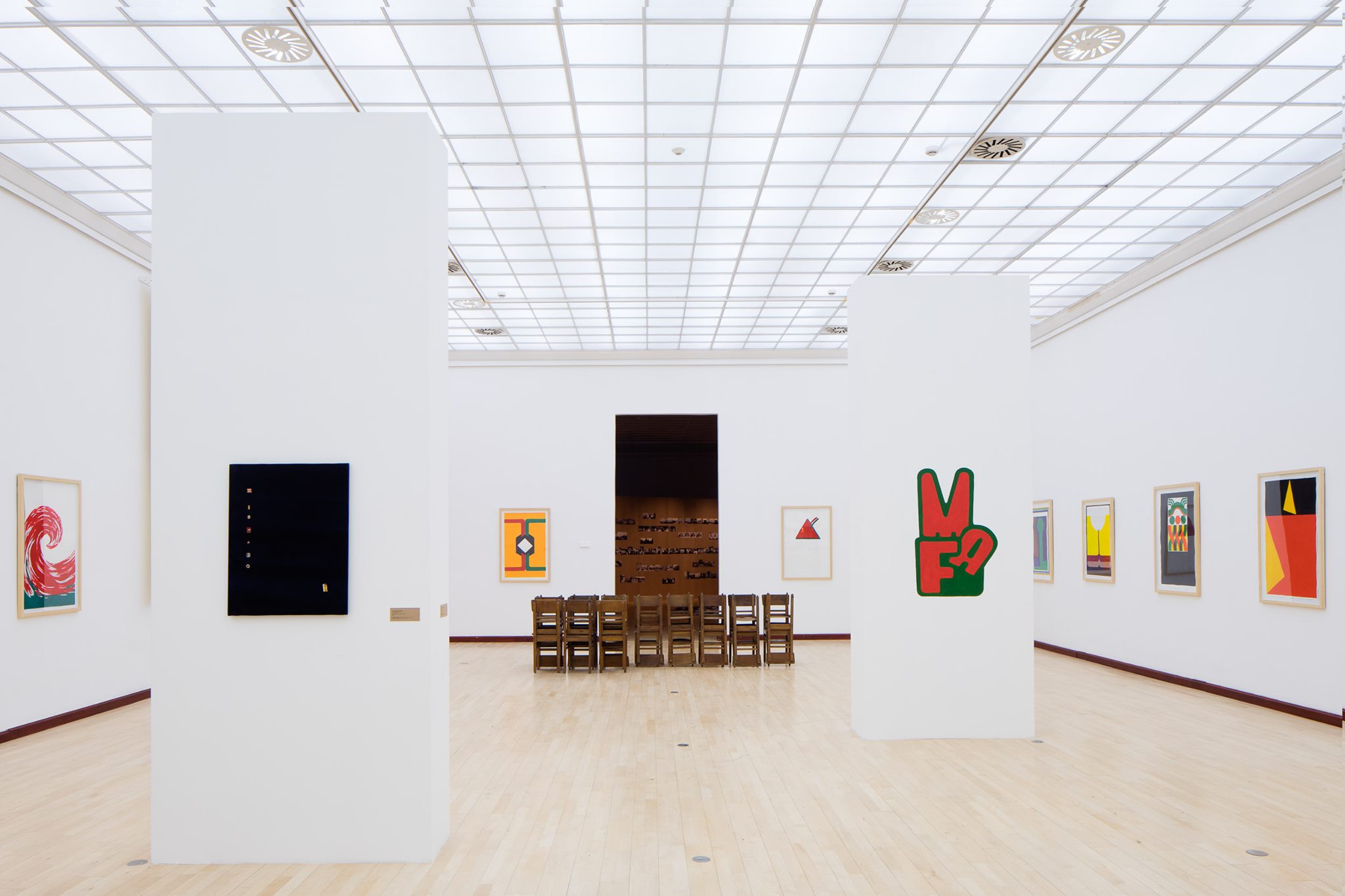 Foto Tomáš Souček. GHMP 2019
Městská knihovna, 2. patro
Mariánské nám. 1, Praha 1 (vchod také z Valentinské ulice)
LINK
LINK
Gumpendorfer Straße 6, 1060 Wien
LINK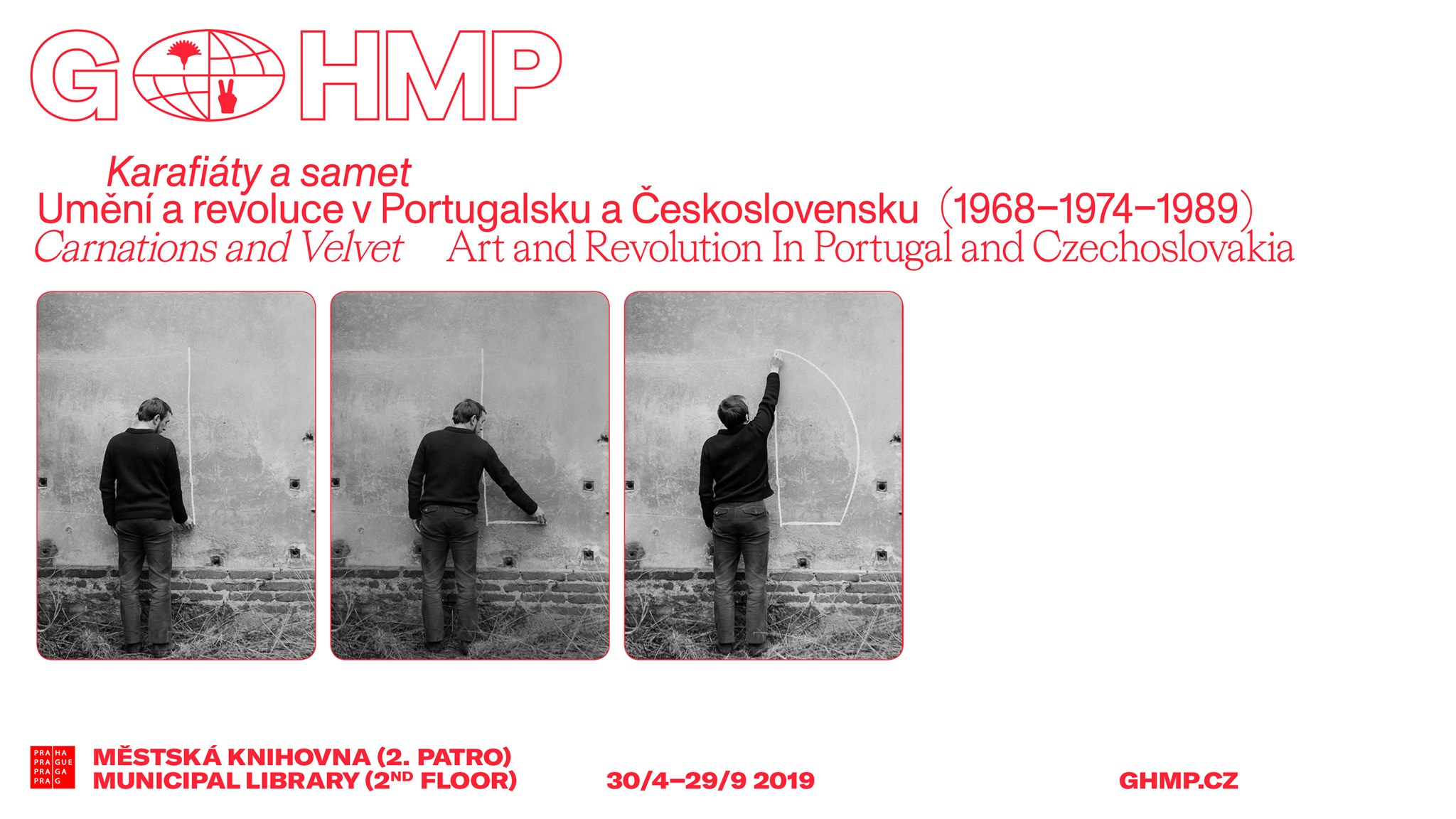 Městská knihovna, 2. patro
Mariánské nám. 1, Praha 1 (vchod také z Valentinské ulice)
LINK
LINK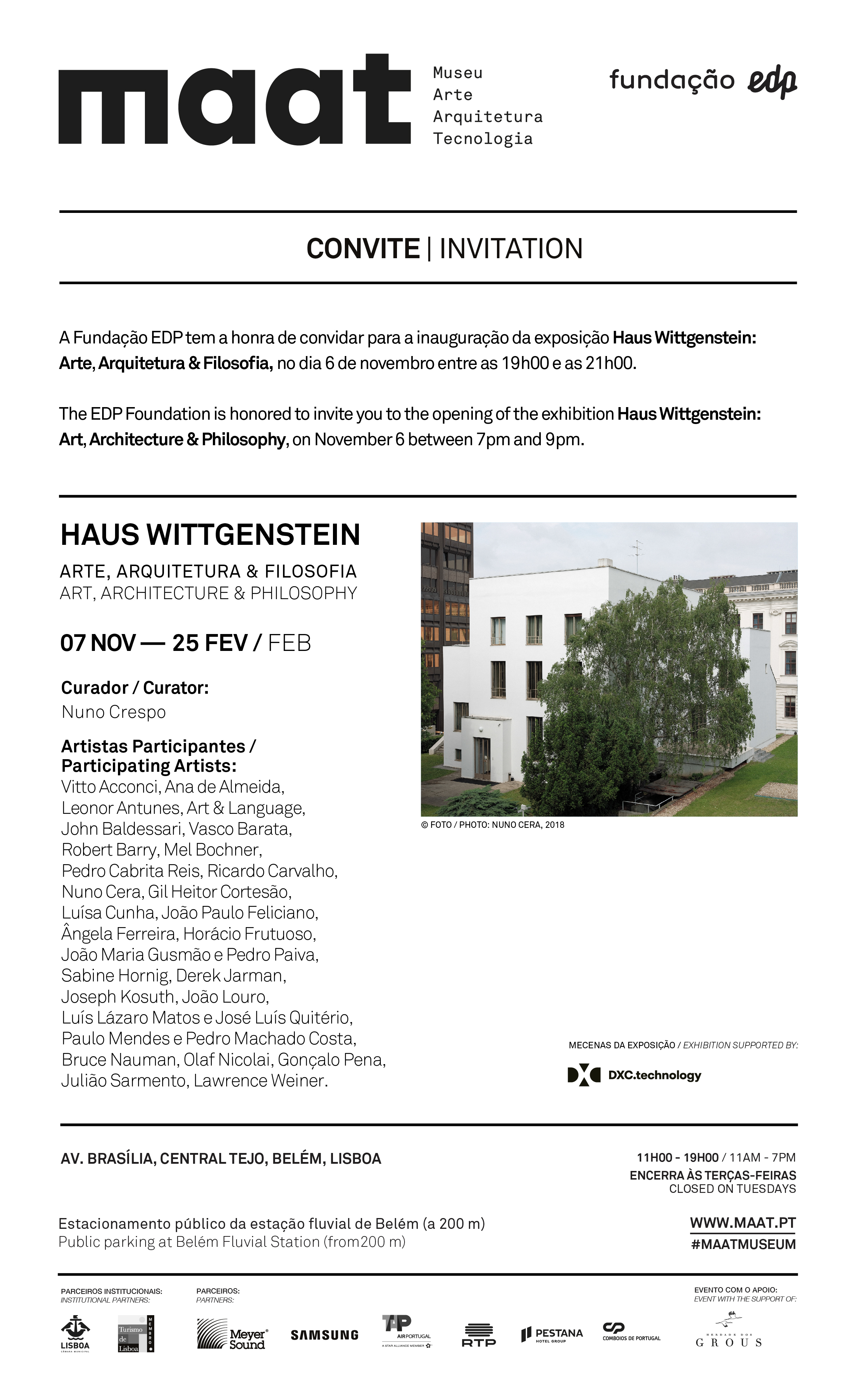 18th/19th of June 2020
25th of June 2019 / 18:00
21st of May 2019 bis 8th of June
29th of April 2019 / 18:00
12th-13th of April 2019
6th of November 2018 / 19:00
11th of June 2018 / 18:15
1st of August 2019 / 18:00
CARNATIONS AND VELVET.
ART AND REVOLUTION IN PORTUGAL AND CZECHOSLOVAKIA

Launch ceremony of the exhibition catalogue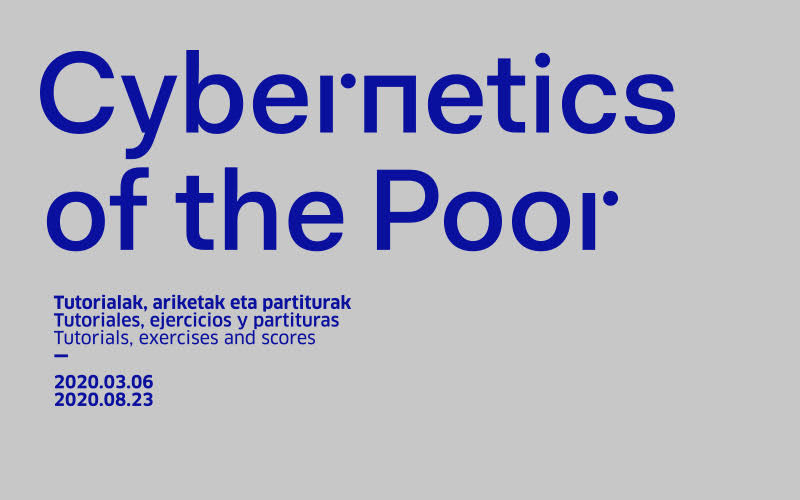 LINK
Komisarioak | Comisarios: Diedrich Diederichsen & Oier Etxeberria

Artista parte-hartzaileak | Artistas participantes: Agencia, Jon Mikel Euba, Lili Reynaud-Dewar, Camila Sposati, Constanze Ruhm, Ana de Almeida & Alicja Rogalska, Gema Intxausti, Luke Fowler, Alex Mendizabal, Sharon Lockhart y Pedro G. Romero.

Honako hauen obrekin | Con obras de: Don Van Vliet, Cornelius Cardew, Anthony Braxton, Elena Asins, Hanne Darboven, Edgar Degas, Jörg Schlick, Peter Roehr, Douglas Huebler, Heinrich Riebesehl, Mike Kelley eta Guy de Cointet



Andre zigarrogileak plaza, 1
20012. Donostia / San Sebastián
EXERCISES IN IMPOSSIBILITY

Exhibition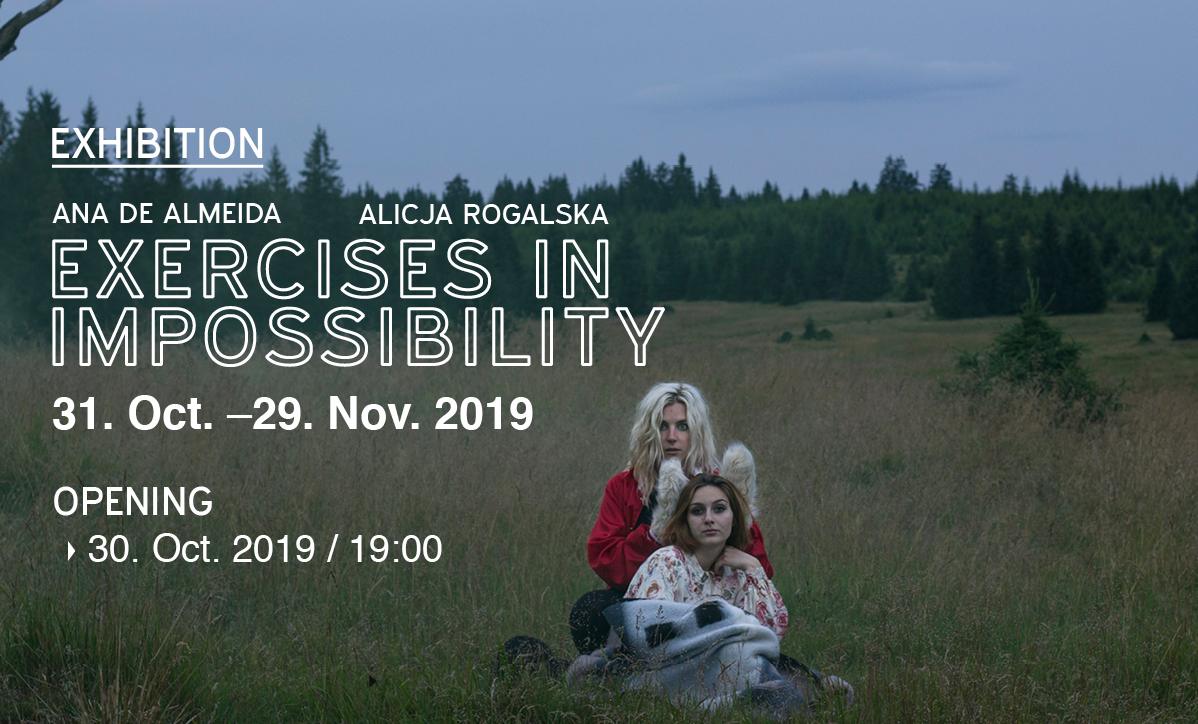 VBKÖ Vereinigung bildender Künstlerinnen Österreichs
Maysedergasse 2, 1010 Vienna, Austria
LINK
6th of March - 23rd of August 2020
CYBERNETICS OF THE POOR
TUTORIALS, EXERCISES AND SCORES

Exhibition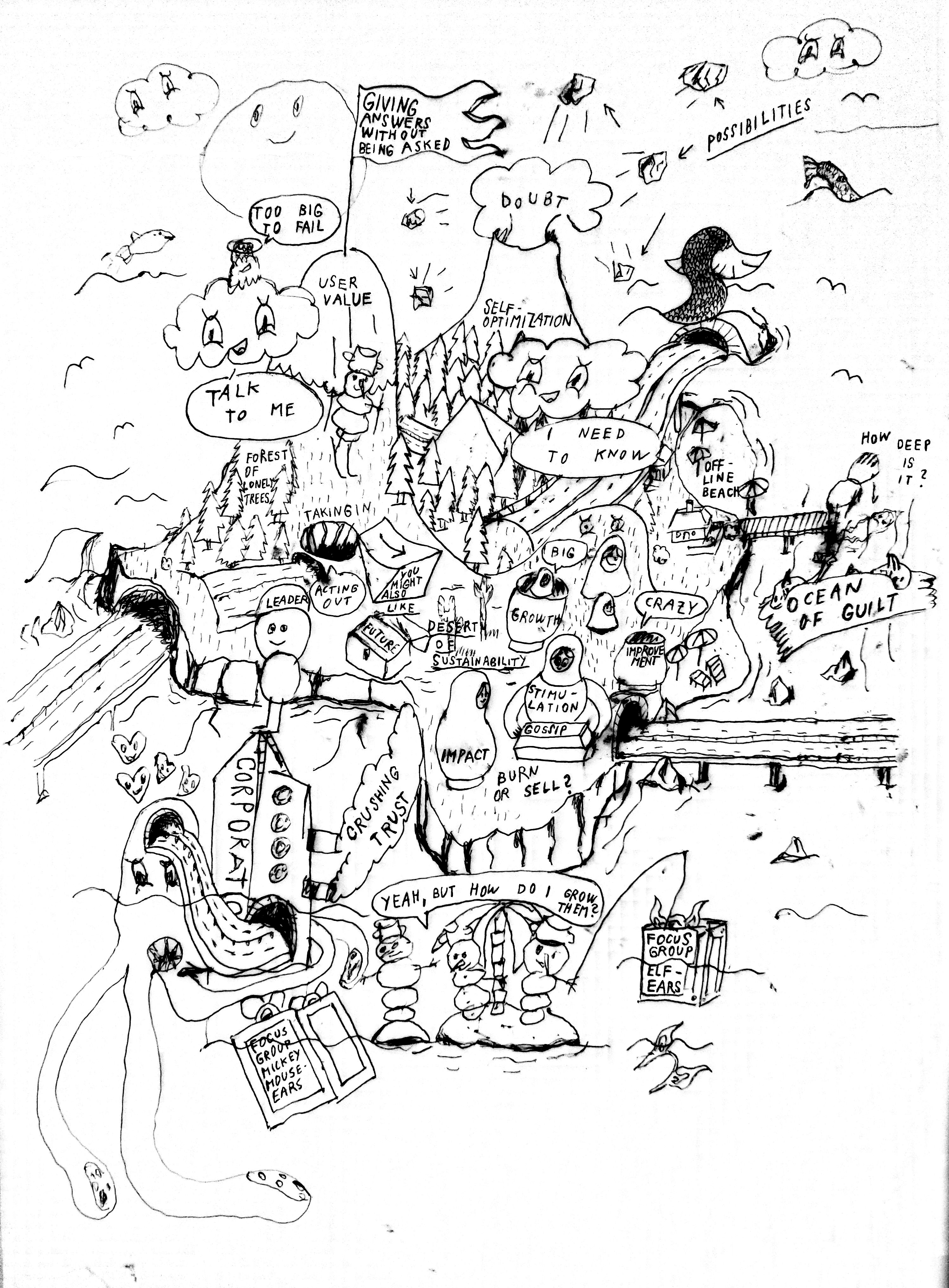 Thu 18/6 2020, 5 pm
Artist talk with Amy Lien (New York) and Enzo Camacho (Manila)

Fri 19/6 2020, 5 pm
performance e-mail my heart by The Field (Zurich), followed by a conversation with Diedrich Diederichsen (Vienna/Berlin) and Oier Exteberria (Donostia/San Sebastián)



The workshops will be conducted via Zoom and are organized by and with students in the Master in Critical Studies program of the Academy of Fine Arts Vienna: Anahit Bagradjans, Felix Balzer, Viktoria Bayer, Carolin Brendel, Kristina Dreit, Rebecca Fuxen, Jacqueline Grassmann, Tizia Grether, Leonie Huber, Flavio Merlo, Simon Nagy, Lia Sudermann, Inga Charlotte Thiele, Kervin Saint Pere und Andrea Zabric.

Concept: Ana de Almeida, Anke Dyes, Nina Kerschbaumer, and Inka Meißner


The event series Sharing and Responding is a cooperation between
the Academy of Fine Arts Vienna and Kunsthalle Wien.


LINK
Jakub Vrba, 2020
31st of October - 29th of November 2019
17th December 2020 - 24th of April 2021
CYBERNETICS OF THE POOR

Group exhibition
Robert adrian x • agency • ana de almeida, alicja rogalska & vanja smiljanić • eleanor antin • cory arcangel • elena asins •paolo cirio • coleman collins •salvador dalí & philippe halsman • hanne darboven • jon mikel euba • michael hakimi • douglas huebler • gema intxausti •mike kelley • ferdinand kriwet • agnieszka kurant • sharon lockhart • mario navarro • adrian piper • kameelah janan rasheed • lili reynaud-dewar • heinrich riebesehl • pedro g. romero • constanze ruhm • jörg schlick • camila sposati • axel stockburger • kathrin stumreich • isidoro valcárcel medina • tanja widmann • oswald wiener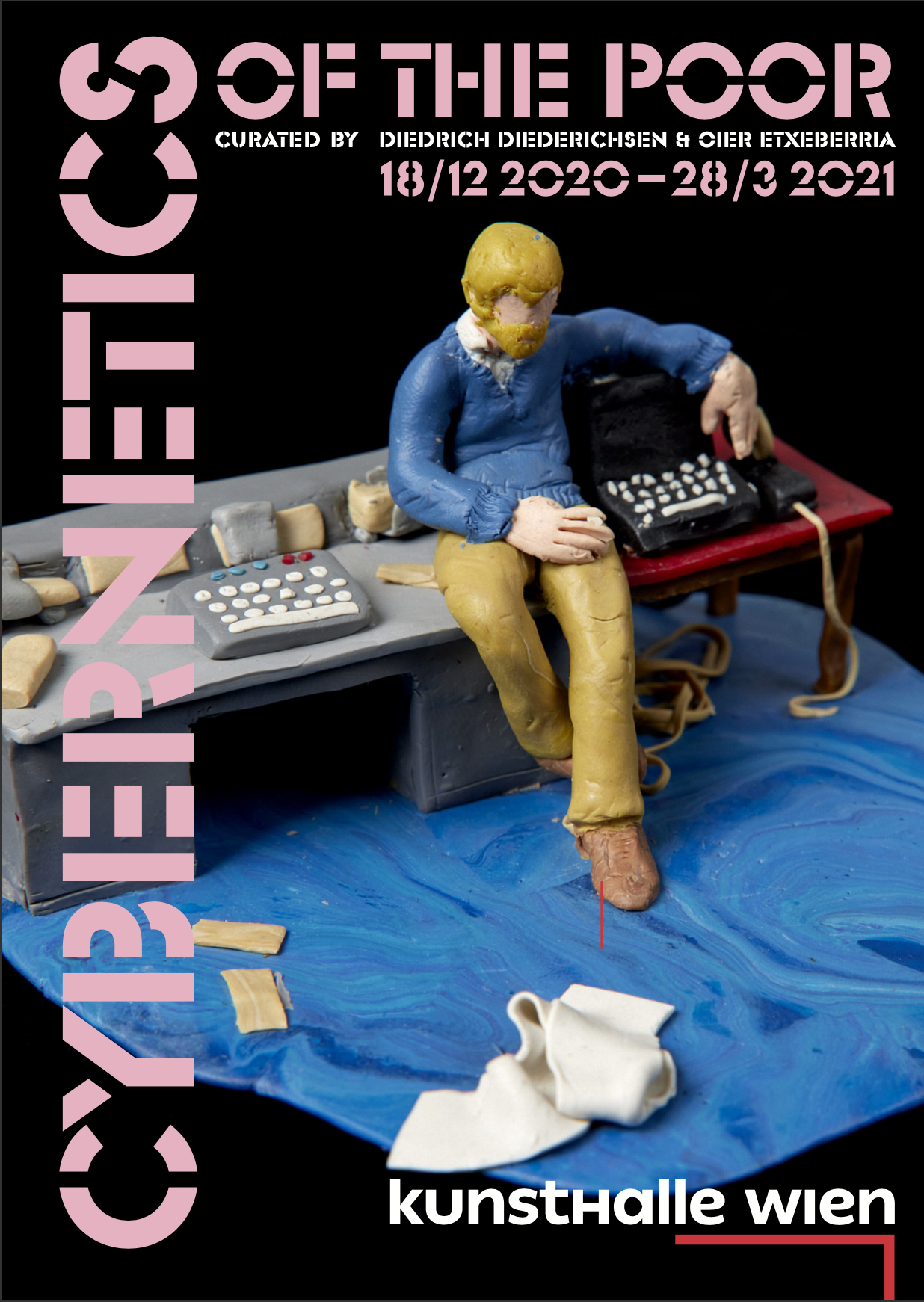 LINK
23rd and - 24th of April 2021
SHARING AND RESPONDING
Symposium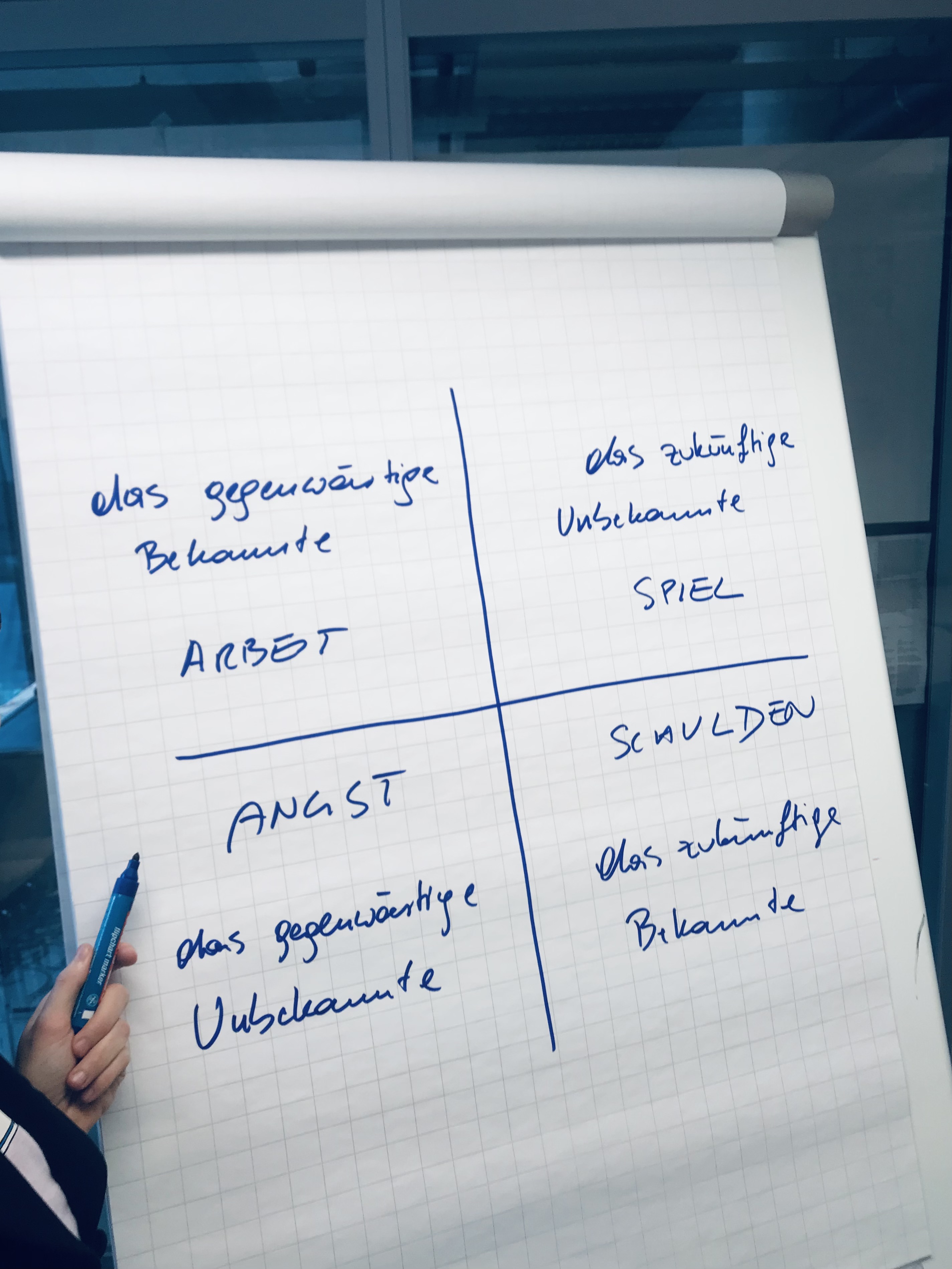 Even if hardly ever described in such terms anymore, cybernetic feedback systems and their logic are ubiquitous today. The idea that, alongside flight paths and temperatures, social interactions and all kinds of decision-making processes can be regulated by now stands beyond question. With a program structured by the horizontal interconnectedness of various keywords, the symposium Sharing and Responding is dedicated to this condition, while simultaneously reflecting the inevitability of cybernetic reciprocity and interference.


Concept: Ana de Almeida, Anke Dyes, Nina Kerschbaumer, and Inka Meißner

with contributions from: Mz* Baltazar's Laboratory, Rachal Bradley, Carolin Brendel, Coleman Collins, Ana de Almeida, Diedrich Diederichsen, Anke Dyes, Oier Etxeberria, Julia Grillmayr, Johan Hartle, Peter Hermans, Ute Kalender and Aljoscha Weskott, Nina Kerschbaumer, Leigh Claire La Berge, Yulia Lokshina and Samuel Fischer-Glaser, Ina Meißner, Doreen Mende, Sighard Neckel, Axel Stockburger, Lia Sudermann, and Christian Wimplinger




LINK
AKENI, The known present (work) / the unknown future (play) /
the unknown present (fear) / the known future (debt), 2021
11th of November - 31st of December 2021
FROM FAT AND THE CITY / Z TUKU A MĚSTA
Solo exhibition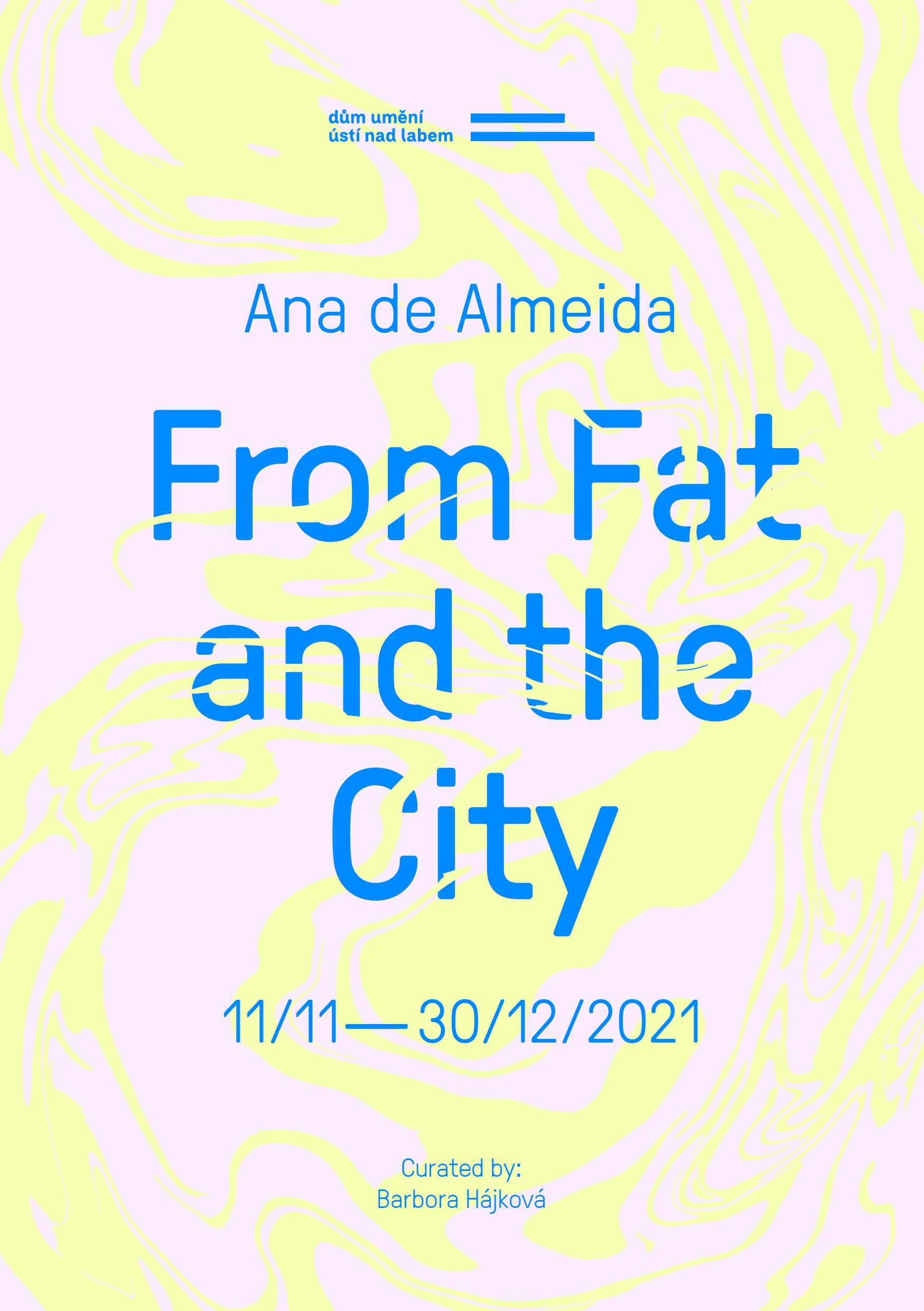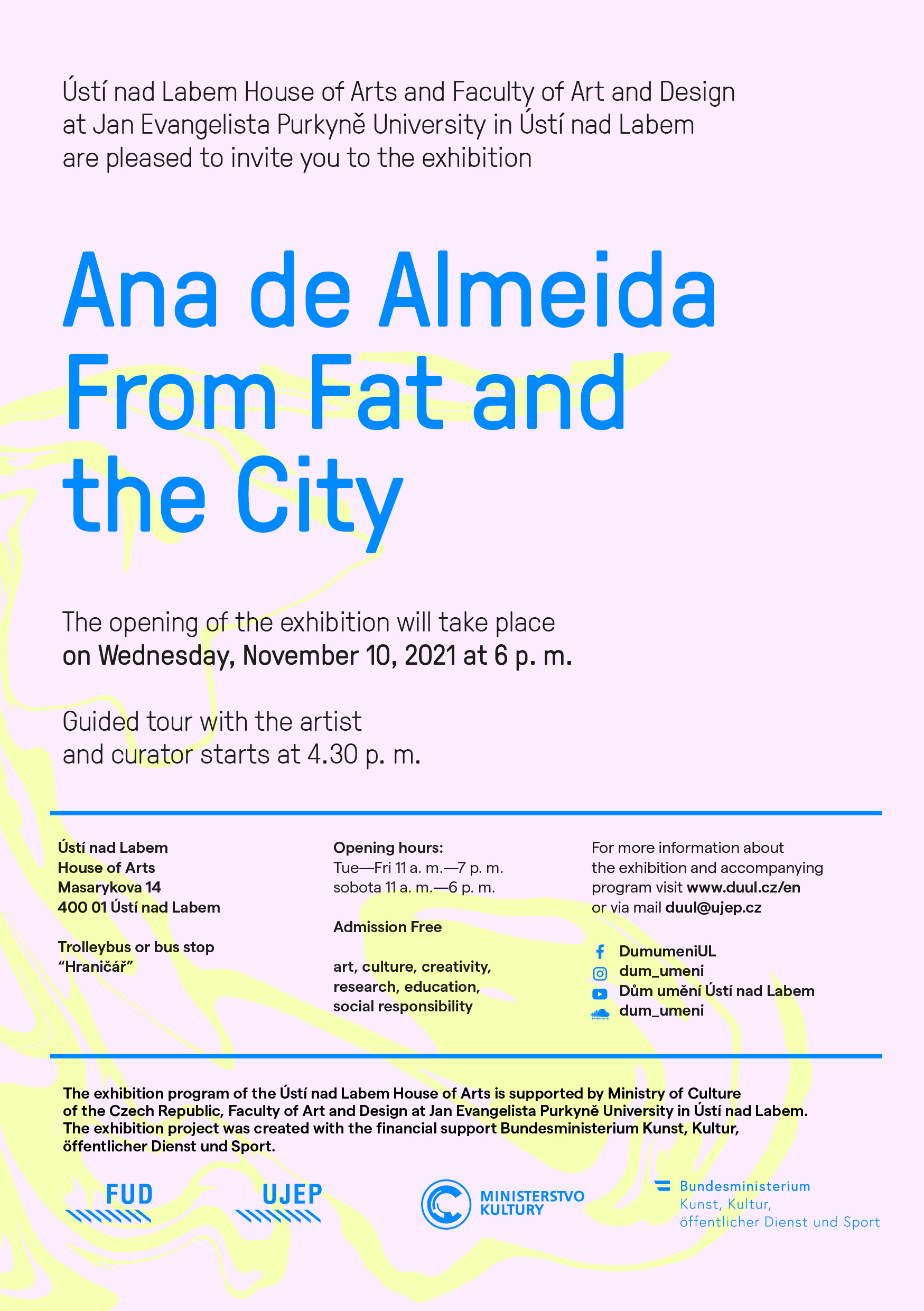 LINK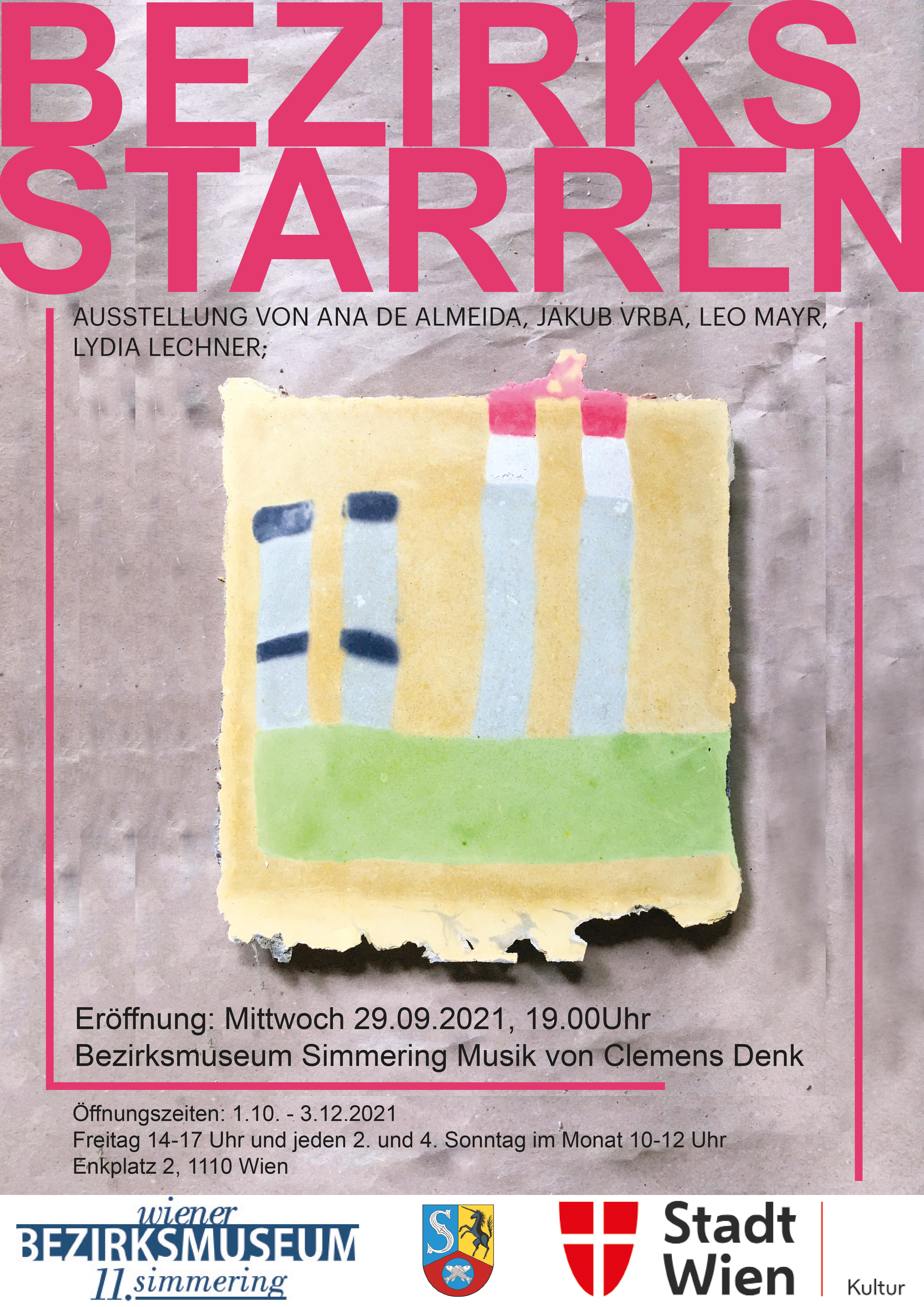 BEZIRKSSTARREN
29th of September - 13th of February 2022
Group exhibition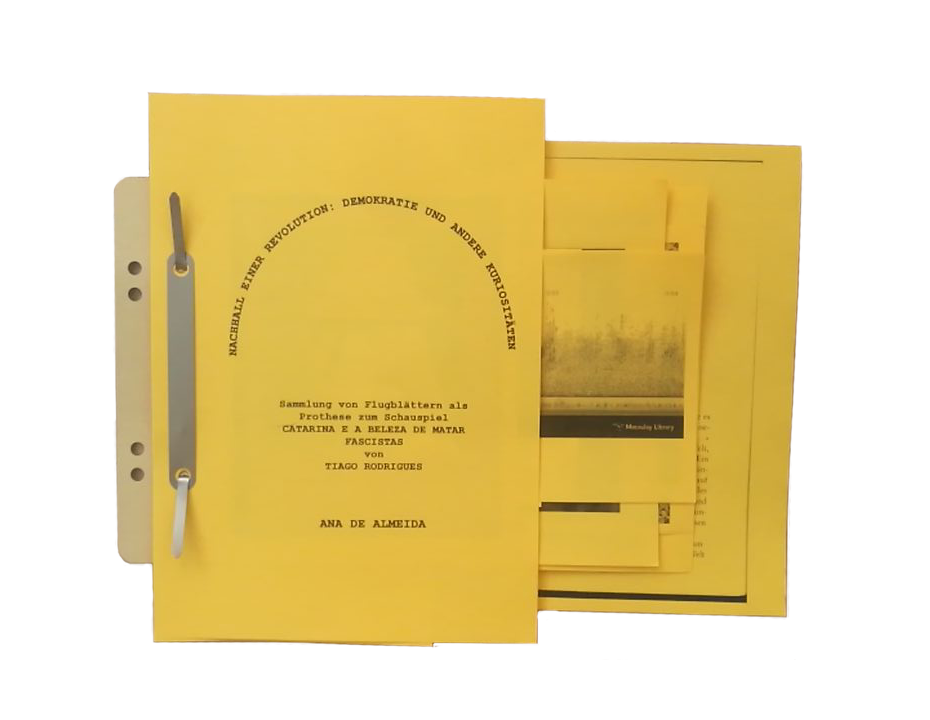 24th and 25th of June 2021
Nachhall einer Revolution:
Demokratie und andere Kuriositäten
Performative lecture
Nachhall einer Revolution: Demokratie und andere Kuriositäten performative lecture by Ana de Almeida.

Historical, cultural and political introduction to the theater play "Catarina e a Beleza de Matar Fascistas" by Tiago Rodrigues.

24th and 25th of June, 18.30, Foyer Halle E+G
Museums Quartier, Vienna




LINK
The exhibition in two phases presents, develops and picks up strategical inventions and dispositives, that are able to override distances - in a conceptual field, but as well in very concrete forms of translocality as a spacial/temporary dimension. As a start, constellations of artworks have presented that form up around such concrete fields of activities and methodological approaches - device, displacement, lair and journey, activism, flight. They have been generated in a dialogical process with the involved artists, who thus expose themselves to personal experience, and include agents from external networks.

In the temporary Project Space Gumpendorferstrasse, a disused and radically skeletonized groundfloor space, the works are located in analogous spacial constellations, however, communicate comprehensively via the immanent topic of translation - between contexts of provenance, class, and gender, between languages, imaginaries, and forms of action.


The exhibition setting of "Translocal Manoeuvres" is activated by a series of dialogical guided tours and community-building events. This productive element of the presentation inform the second phase of the project, the "Translocal Archives", which will focus on film and media, urban narratives, mediation, and archives.
Works by: Pato Wiesauer, Sabine Frühstück, Lisa Schmidt Colinet, Ashley Scheirl / Ursula Pürrer, textile designer / unknown Alaa Abu Asad / Ulufer Celik, Marie Willmann, Tatia Skhirtladze Rini Swarnaly Mitra / Sumana Akter, Stephanie Misa / Ana de Almeida, Teresa Kurzbauer / Lena Baur / Rebecca Goldschmidt, and a book by Birgit Jürgenssen and Lawrence Weiner Nina Geschl / Alfred Rottensteiner, Hyeji Nam, Nubauer, Shuvo Rafiqul Natalie Deewan, Hanna Reiner



Curated by: Simonetta Ferfoglia, Heinrich Pichler and Ruby Sircar
LINK
LINK
TEXTS/TALK/TEACHING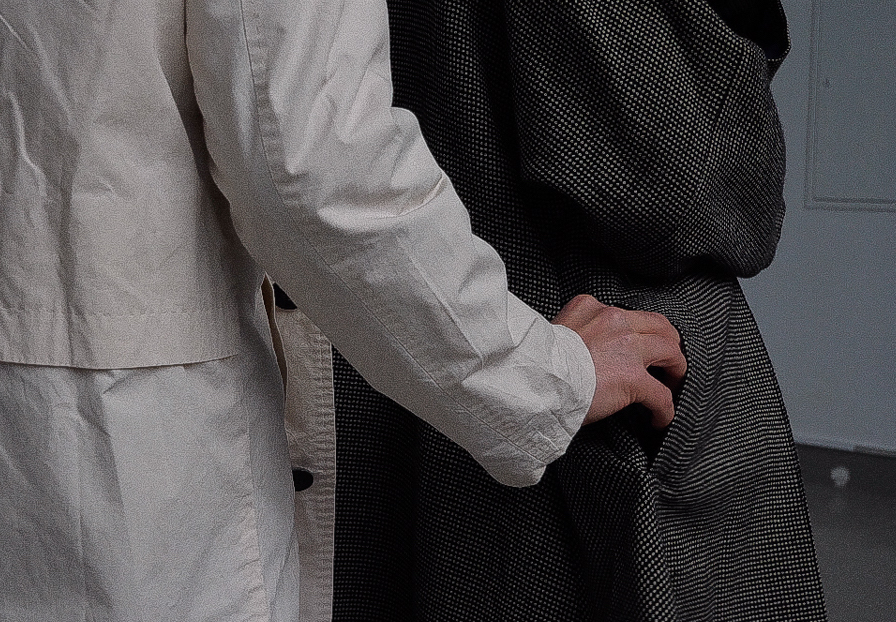 29th of April - 8th of May 2022
WHAT IS LEFT TO STEAL
Research Lab
Participants of the artistic and academic Master in Critical Studies programme at the
Academy of Fine Arts Vienna raise the question of what remains after appropriation and
expropriation, colonialism and capitalism. Which positions can the Left assume on the
various ideas of property, appropriation, legitimacy, and theft, which have emerged in recent
public discoursediscussions? How can colonial and capitalist exploitation and extraction be
prevented, or even redressed, even reversed?


Serena Abbondanza, Cristóbal Adam, Ana de Almeida, Lara Bellon, Diedrich Diederichsen,
Ava Binta Giallo, Steph Holl-Trieu, ὑφή, Dila Kaplan, Hanna Kučcera, Helena McFadzean,
Mona Rizaj, and Sophia Rohwetter will install interruptions, passages, landscapes, and paths
in and around Forum Frohner – in an effort to counter the confinement of stealing to mere
metaphor.


A project of donaufestival and the Academy of Fine Arts Vienna



LINK
Fotografie von Hanna Kučera und Cristóbal Adam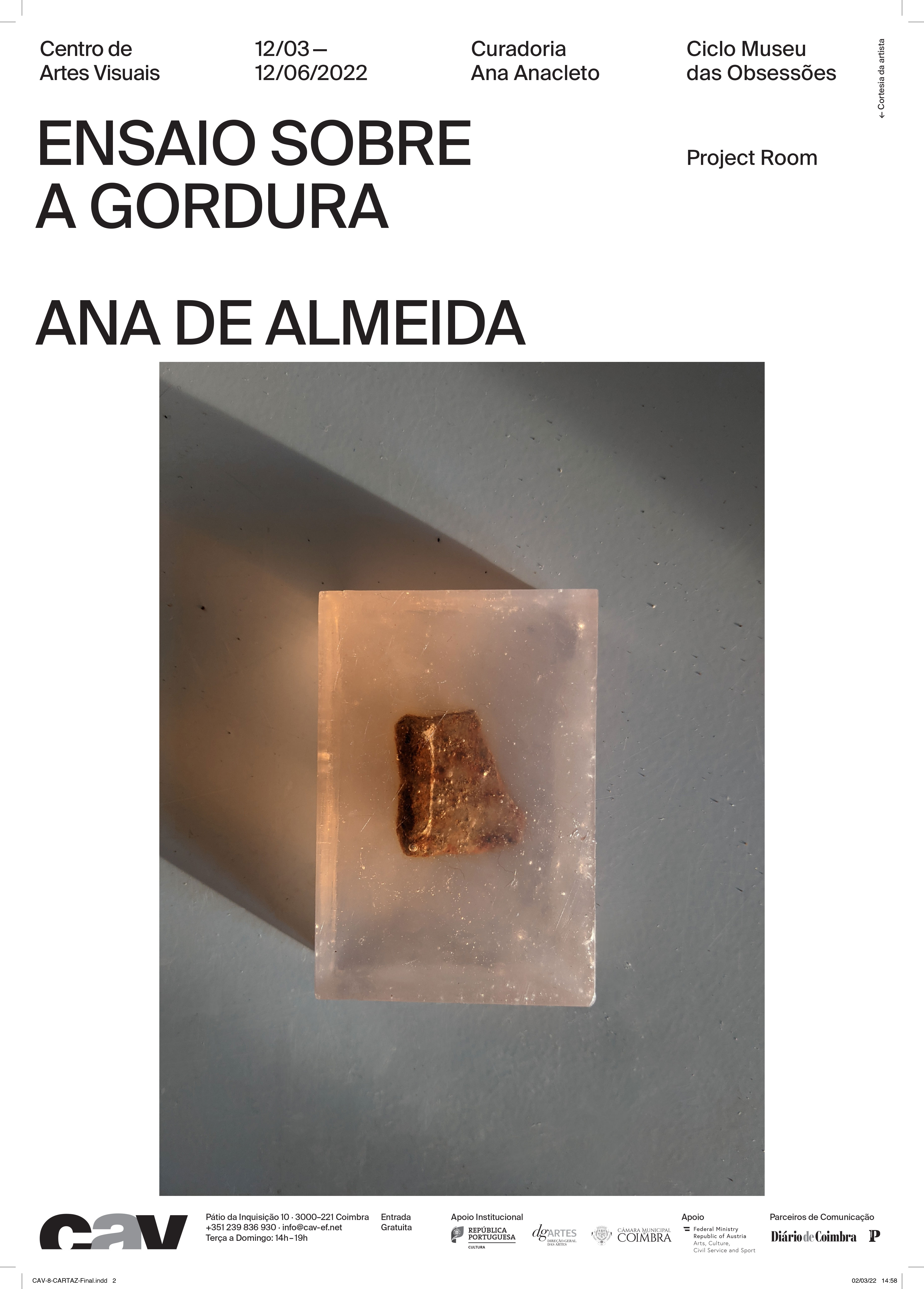 12th of March - 20th of June 2022
entre o céu e a terra
Curated by AA Contemporary Art Collection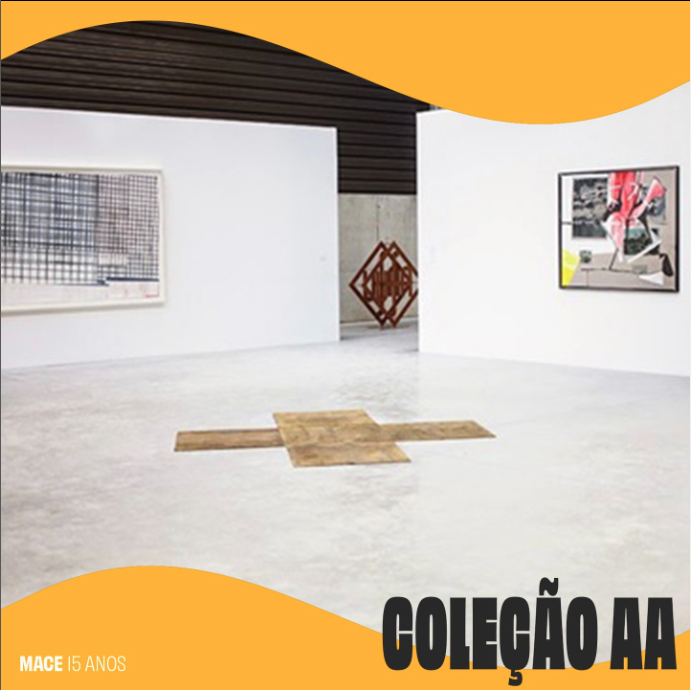 Exhibition curated by AA Contemporary Art Collection for 15 ANOS DE MACE - AQUI SOMOS REDE, Elvas Museum of Contemporary Art



With:
Ana de Almeida, Antony Gormley, Diango Hernández, Diogo Pimentão, Fernanda Fragateiro, Fernando Calhau, Francisco Tropa, Heimo Zobernig, Inês Moura, Inez Wijnhorst, Jannis Kounellis, José Pedro Croft, Julião Sarmento, Matt Mullican, Michael Biberstein, Rita Mcbride, Robert Mapplethorpe, Rui Chafes, Teresa Segurado Pavão, William Kentridge,



Igreja das Domínicas
Largo de Santa Clara 3C
7350-058 Elvas
LINK
7th of July 2022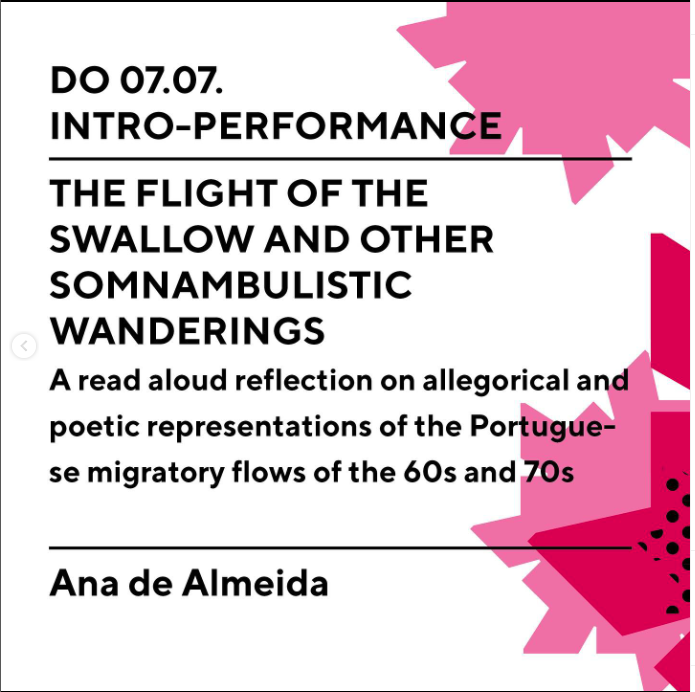 Freiluft Kino
Karlsplatz
1040 Vienna
LINK
15th of July - 15th of August 2022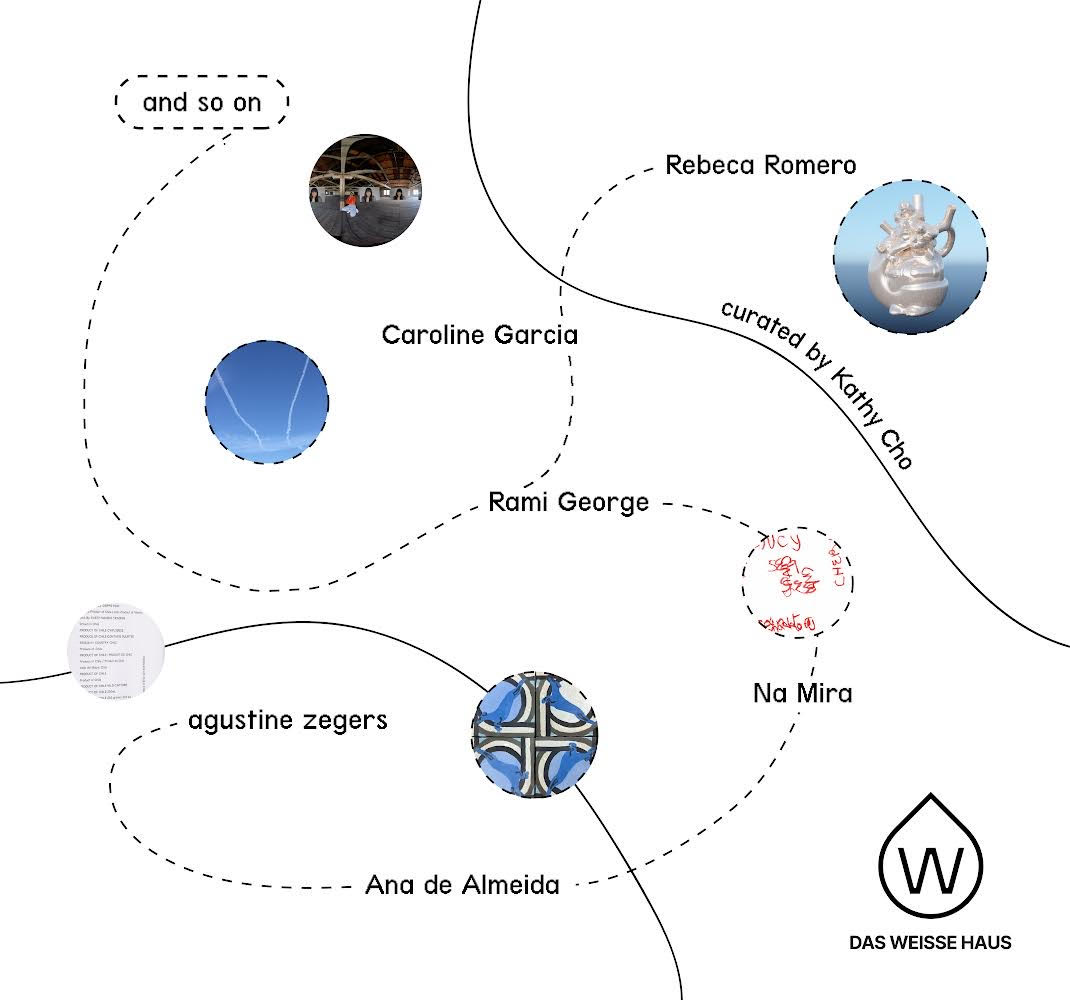 25th of November 2022 - 11th of February 2023
and so on
Group exhibition
curated by Kathy Cho
opening: 24.11.2022 19h
exhibition duration: 25.11. 2022 - 04.02.2022

with Ana de Almeida, Caroline Garcia, Rami George, Na Mira, Rebeca Romero and agustine zegers


An ordinary turn of phrase, "and so on", borrowed from David L. Eng's interpretation of Freud's writing on melancholia and loss, acts as the title and center of a constellation of artists. The artists provide guidance towards ways of moving through personal and cultural bereavement rooted in the loss of relationships and knowledge that is inevitable. "and so on" considers sites of loss as a space for creation, immeasurable to producing living archives.

By engaging with personal and collective loss, these artists utilize melancholia as a site for generating new perspectives and meanings. Their respective areas of research are driven by personal sensibilities and an urge to understand, redefine, and reinterpret their experience of loss — whether it's the loss of life, knowledge, or cultural memory. Ranging from performance, video, writing, sculpture, and scent, the works navigate our relationship to memory and the porousness of living archives, questioning: who is empowered to be the authority of shared histories? How do we cope with intergenerational loss of knowledge and affect that is passed down? In response, the artists of "and so on" consider how one can be reshaped in speculative, non-linear, and embodied ways by both profound and ordinary loss.

On the opening day there will be a unique performance by Caroline Garcia.

As an Artist in Residence at das weisse haus in November 2022, Caroline Garcia will develop and present a new performance, that utilizes live digital 3D scanning to archive forgotten choreographies, referencing Indigenous Filipino practices of headhunting and martial arts as an approach to explore personal matriarchal grief. In the re-rendering of gestures from analog (body) to digital (live 3D scanning), Garcia flirts on the spectrum of translatability and untranslatability that occurs in the migratory process.

A digital iteration of Garcia's performance will be captured and available as part of the and so on exhibition, and online at dwhX. Visitors are welcome to come and go throughout the duration of the performance.


image credit: agustine zegers, exhibition image.



das weisse haus

Platform for the presentation and production of Art,
Dialogue and Discourse





Hegelgasse 14 | 1010 Vienna



LINK
After Work
Call for players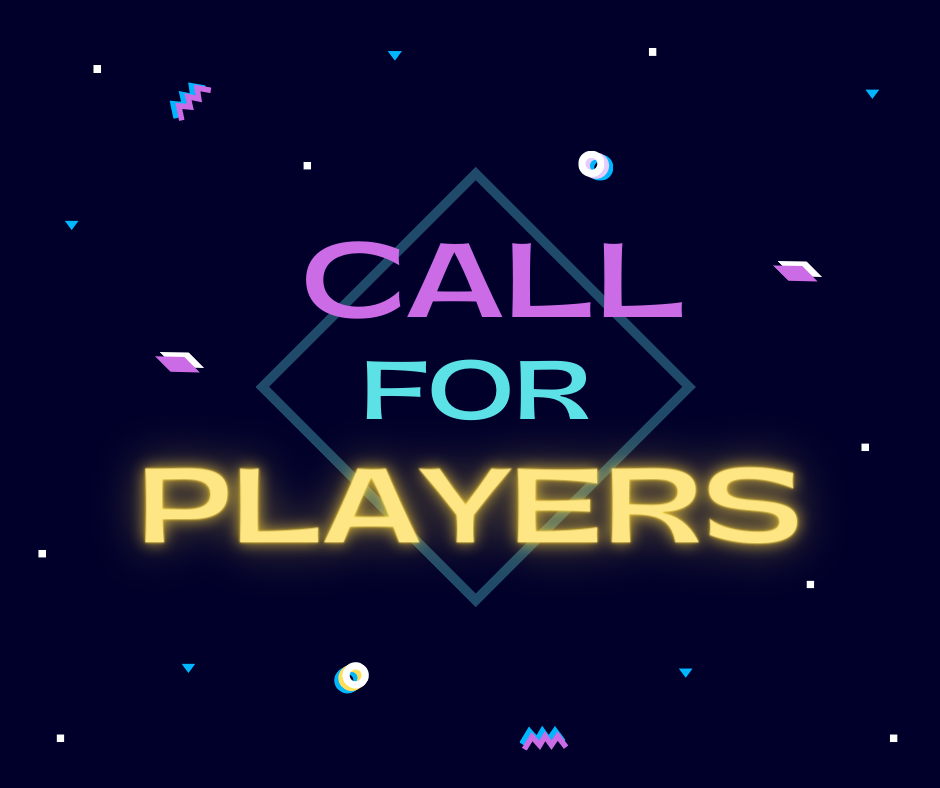 Kunsthalle Wien is looking for people interested in taking part in a writing role-playing game on the topic of post-work society. The game After Work was created by the artist Ana de Almeida and will be realized in the framework of the education project What to do after work?. Each player engages in a unique writing experiment and develops their own science fiction narrative or future scenario for a collaborative online publication.

*

Programmed by Ana de Almeida, ELIZZA 2.0 is a new generation AI chatbot that uses an algorithm to generate scenario details upon the personal input of each player-writer. Additionally, ELIZZA 2.0 recurs to high processing power and preys upon a wide database of pre-existing fictional and scholarly work on post-work scenarios to provide each player-writer with custom-made, research based, meaningful as well as tasteful writing hints.

Part psychoanalyst, part writing coach, part your fully-automated friend, ELIZZA 2.0 uses pattern matching and substitution methodology to simulate a conversation and is the best tool to assist you with your first-person speculative fiction writing.

*

Schedule: The After Work script for ELIZZA 2.0 will run twice online for a limited number of players. The first slot will take place between March 13 and 17, the second slot between March 20 and 24. On these days, the chat bot will run from 9 am to 10 pm.

Each player will interact with ELIZZA 2.0 for one full hour every day for five consecutive days.

Additionally, all players-writers are taking part in a writing workshop at Kunsthalle Wien on April 15 from 11 am to 4 pm.

*

Required equipment: computer with internet connection, keyboard, headphones, and the Signal free chat app

Language: To play After Work and interact with ELIZZA 2.0 you will have to be able to express yourself in writing in German or English.

*

Registration: If you are interested, please register at vermittlung@kunsthallewien.at. Please also provide us your phone number and your preferred time slot. Your contact information is for internal use and game processing only, it will not be disclosed to third parties.






image credit: Kunsthalle Wien



LINK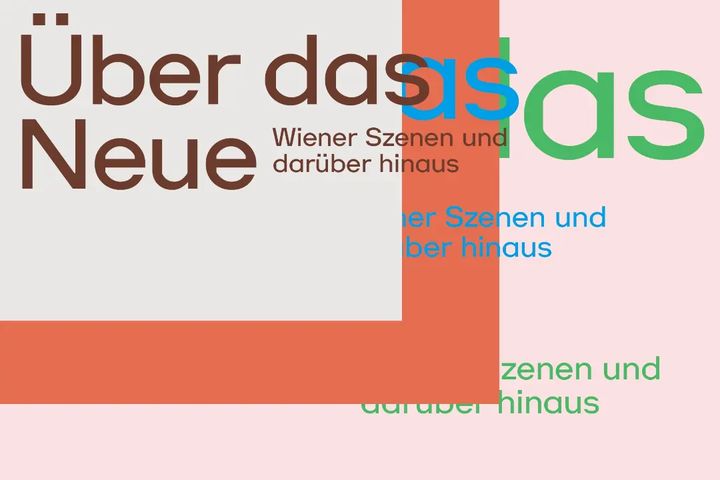 On the New. Viennese Scenes and Beyond
Group exhibition
What is going on in local art scenes, studios, and alternative exhibition spaces? And how can one exhibition capture the diversity of the production and presentation of art?

Belvedere 21 already explored these questions with the 2019 show On the New. Young Scenes in Vienna, developing a dynamic, collaborative format that involved multiple contributors and a shared curatorial authorship. In addition to presenting eighteen individual artistic positions, twelve Viennese project spaces hosted rotating exhibitions within the show, each kicked off with a 'midissage' (midway opening) complemented by discursive events and performances.

In 2023, On the New. Viennese Scenes and Beyond picks up this thread and expands on the original concept. In order to provide a broader view of contemporary approaches, strategies, and discourses, the survey now also includes artists and project spaces from other parts of Austria. In an expanded dynamic, the show presents around fourty-five artists and twenty-four exhibitions within the exhibition—curated by individual project spaces—and thus offers fresh perspectives on what art can be today, on its themes, aesthetics, and forms of expression, and how it is perceived.

This polyphonic tracing of the "new"–despite the ambivalence this term and its function imply especially in contemporary art–presents no grand overview, but rather an image of a growing entity without beginning or end, in perpetual flux.

Curatorial team: Christiane Erharter, Andrea Kopranovic, Ana Petrović, Claudia Slanar, Luisa Ziaja
Exhibition graphics: Beton
Exhibition architecture: AKT


With works by: Francesca Aldegani, Ana de Almeida, Minda Andrén, Olivia Coeln, Gabriele Edlbauer + Julia S. Goodman, Julia Haugeneder, Flora Hauser, Hannahlisa Kunyik, Guilherme Maggessi und Rafał Morusiewicz, Lydia Nsiah, Evelyn Plaschg, Heti Prack, Anna Spanlang, Hui Ye, Julia Zastava

Exhibitions within the exhibition curated by: Edition:, hinterland, Kunstverein Gartenhaus, Memphis, philomena+, prolet.air.studio, Queer Museum Vienna, school










7th of April – 2nd of July 2023
Belvedere 21
Arsenalstraße 1, 1030 Vienna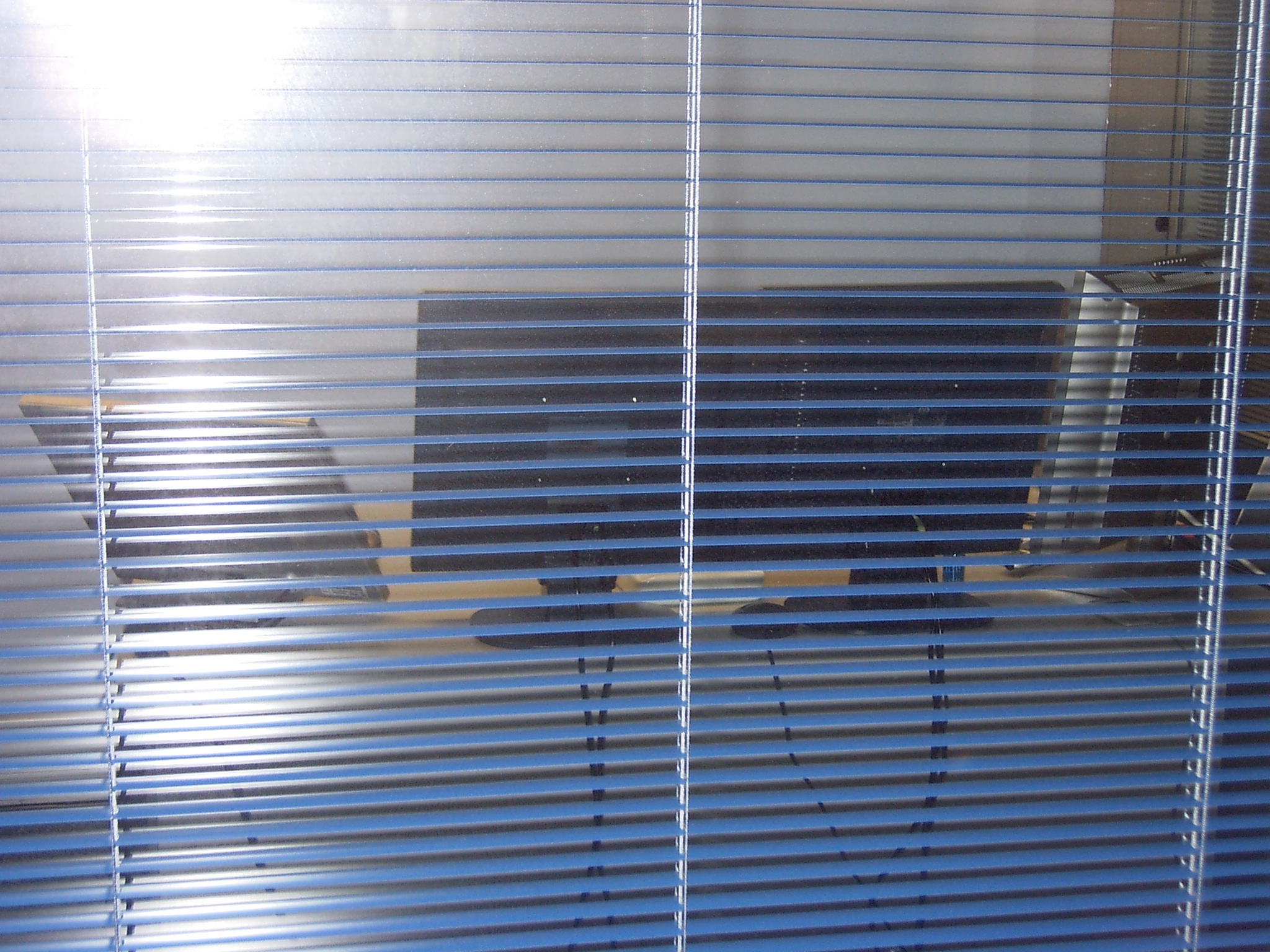 13th of March – 15th of April 2023
Afterwork
Live action roleplay & workshop
Programmed by Ana de Almeida, ELIZZA 2.0 is a new generation AI chatbot that uses an algorithm to generate scenario details upon the personal input of each player-writer. Additionally, ELIZZA 2.0 recurs to high processing power and preys upon a wide database of pre-existing fictional and scholarly work on post-work scenarios to provide each player-writer with custom-made, research based, meaningful as well as tasteful writing hints.

Part psychoanalyst, part writing coach, part your fully-automated friend, ELIZZA 2.0 uses pattern matching and substitution methodology to simulate a conversation and is the best tool to assist you with your first-person speculative fiction writing.

The game After Work was created by the artist Ana de Almeida and takes place in the framework of the education project What to do after work? and of the exhibition In the meantime, midday comes around.


Image credit: Eduardo Balsa




Museumsplatz 1
1070 Vienna

LINK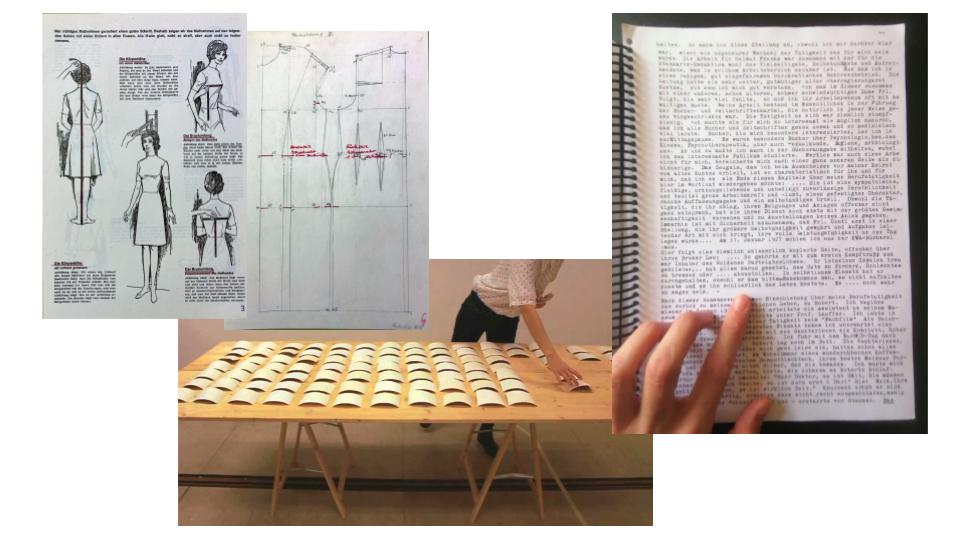 27th of April 2023
Stay and Tell: memory objects and narratives of appropriation
Lecture
Stay and Tell: memory objects and narratives of appropriation. Tracing social change in texts, photographs and patterns within personal archives.

Präsentation des assoziierten ÖAW-Doc Teams aus Wien und Linz: Ana de Almeida, Lena Ditte Nissen & Elif Süsler-Rohringer.



DO. 27. April
17:30 – 18:30
Lounge / BBB















CINEMA